I love to read. And I'm thrilled to be at a point in my parenting where I am introducing my kids to great books. Not just silly books or cute books or book with favorite cartoon characters, but books that they will remember when they are parents themselves.
Over the last several months I've been purposefully reading chapter books to Emma, who is 3. I compiled a short list of excellent books that I wanted to read to her and we've been making our way through them. We read a chapter or two, depending on the length, before her rest/nap time each day. It's our special time to snuggle together, and she usually gets some sort of little treat to eat while I read.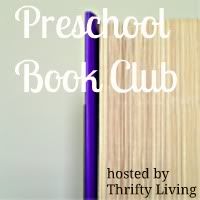 We've had so much fun with this reading time that I want to share it with you! We want to start a preschool book club that "meets" online. Any child can participate, but because we will be reading chapter books, children younger than 3 might not have the attention span yet. Don't be afraid to stretch your children though! They might surprise you :-)
Every month we'll pick a book and set a date to have it read by. Prior to the book club "meeting", I will post some questions to think about, as well as possibile activities or crafts to go along with the book. The book club meeting with be starter post here on Thrifty Living with our thoughts on the book, Emma's reactions and favorite parts, and activities we did.
For this to really work though, I need you to participate! That means comments on the post with your child's favorite parts of the book, anything special you did to go along with the story, and maybe a linky where you can blog about the story on your own, then link up on the post. One of the best parts about reading a book is talking about it with others! I love seeing what parts my daughter remembers; usually they are very different than what stuck out to me.
I will go ahead and pick the first book, but I'd love to have suggestions for future books books and even voting on the next month's book. I want to keep things "twaddle free", so my preference is usually for older, classic books, although there are still plenty of new books that are wonderful as well.
What do you think?
If you are on board today, please leave a comment on this post letting me know! Or, if you would rather use email that is fine too. You can reach me at thriftylivingde(at)gmail(dot)com. If you want to participate but are not prepared to start this month, no problem. It would still be great to hear from you!
The specifics:
The book for May is The Lion, the Witch, and the Waredrobe by C.S. Lewis.
The main reason I chose this one is because I just started reading it to Emma last week. While it is a little longer than some of the other books we've read recently, she is completely enthralled in the story, even asking to read a second chapter in one sitting.
If you are looking for a great copy to read to your child, I highly recommend
the edition illustrated by Pauline Baynes
. It is filled with lots of beautiful color illustrations which really help to bring the story to life.
The first meeting will be June 7th
. Normally I will host the book club meeting at the end of each month, but because this book is a little longer and we are already a few days into May, I wanted to add some extra time. I hope this gives you enough time to read this great children's classic. If you read 6 pages every day, you'll finish in time!
I am so excited about this book club and I can't wait to hear what your children think about this first book!