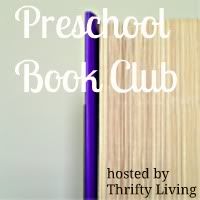 I'm so excited for our first Preschool Book Club discussion! This is still a bit of a work in progress, so if you have any suggestions for improving the book club, please let me know.
Instructions:
Ask your child as many questions as work for your family. Feel free to skip any and only answer ones that engage them. If you did any activities related to the book, post those in the comments as well. And if you blogged about your book reading experience, feel free to post the link so we can check it out! You can reply to comments that others leave, but please keep things polite. :-) I'm not anticipating too much problems with this!
Big Picture Questions:
What was your child's reaction to the story? Did they stay focused and interested the whole time?
Which character did your child like the best or identify with most?
Was this a scary story? If you watched the movie, did your child think that the movie was scarier or the book?
Review and Discussion Questions:
1) Who goes to Narnia first? Do the other children believe her about a land in the wardrobe? What is normally at the back of a closet? Depending on the age of your kids, go into a closet and think about what it might have felt like to be the children. (this was a hit with my daughter!)
2) What season is it in Narnia? What is different about Narnia's winter than our winter? How would you feel if Christmas suddenly stopped happening?
3) Who is the "bad guy"? Talk about some of the witch's characteristics.
4) Who is Aslan? Talk about lions as "king" and how Aslan can be good but not safe at the same time.
5) What does Edmund do that is wrong? If your child has siblings, talk about how they feel when their sibling wrongs them.
6) Where do the children meet Aslan?
7) How is Edmund reunited with the others? Did you think that Edmund would be rescued?
8) What does Aslan do to rescue Edmond for good?
If you want to discuss Christian parallels with this story, this is a great place. We talked about Aslan as the Rescuer, using terminology familiar because of the Jesus Storybook Bible
.
9) What happens to the statues in the witch's house? How did Lucy feel when she saw Mr. Tumnus as a statue, and then as a real faun again?
10) Who wins the battle? Who kills the witch?
11) Will the children return to Narnia? Will it be through the wardrobe?
What did you think about this first month? Did you like the activities and questions? I
appreciate
the feedback I have
received
and am looking forward to hearing what you think now that we have finished the first book.
The book we'll read for June is My Father's Dragon
by Ruth Stiles Gannett. This book was published in 1948 and was a Newbery Honor winner. It is short, about 70 pages, and has illustrations on nearly every page. I've never read it before, but it looks like a whimsical book that is much shorter and easier than Narnia.
I picked up our copy at our library, so please don't feel like you need to purchase a copy. The edition I linked to above is the one I have that is full of pictures. You can also take a look at the complete book online at the UPenn digital library. I think it would be challenging to read the book on a computer to a preschooler, but its a great way for parents to get a preview!
We will have our virtual book club meeting on June 28, which is 3 weeks away. I also want to start voting on books, so I'll have a way for us to do that for July's book.